Wear Your Convictions
Art and fashion have always been a way people have used to express themselves and differentiate from the masses. Our personality and the opinions we have shape who we are as individuals. It's important to stay true to ourselves and our convictions. Standing up for what we believe in. Easier said than done. Not only can it be challenging to get your values and beliefs out there but choosing the right medium to do so can be tricky. In an age of social media, where anyone with a Twitter account can give their two cents on any topic and get an instant array of fake news and ignorant responses, how do you go about it?
"[The T-shirt] is a really basic way of telling the world who and what you are." – Dennis Nothdruft
If you don't stand for what you believe in, you fall for anything. Whether it's to protest inequality, climate change, animal rights, feminism, world peace or poverty, the slogan T-shirt echo's the mood of the movement. It gets the message across and sparks a conversation, engaging the idea and making its way into the reader's mind. It also forces the wearer to be informed. To do its own research on these issues.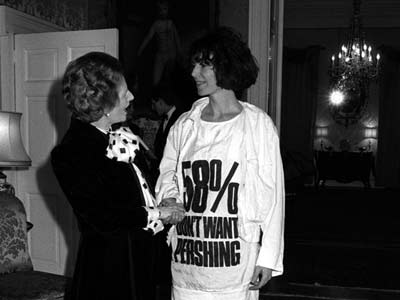 "[The slogan T-shirt was] something to give you a voice … something to believe in that you could wear on your chest that could be read from two hundred yards [away]."- Katherine Hamnett
From Katherine Hamnett meeting Prime Minister Margaret Thatcher in an anti-nuclear message T-shirt to Emma Watson wearing a Trans rights are men rights slogans on hers, the T-shirt has become over the years a powerful socio-politicized medium. So much so that in 1973 The New York Times stated that it was "the medium for the message," Referring to its growth in popularity as a way to protest during the Vietnam War.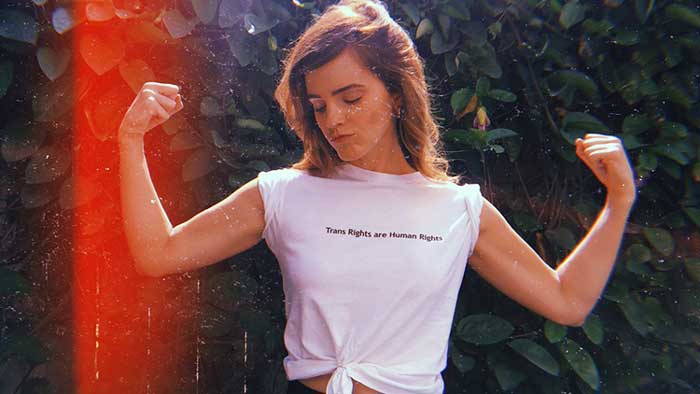 The T-shirt has not only become a vessel for political issues but also a means to create awareness and raise funds to help different causes. Artist Keith Haring helped raised awareness and destigmatize AIDS by putting some of his art onto affordable T-shirts. He then used this money to build the Keith Haring Foundation, which helps fund AIDS organizations and children's programs. Also, Harry Styles in collaboration with Gucci designer Alessandro Michele created a limited-edition graphic. A portion of the proceeds were donated to Global Fund for Women, an organization dedicated to gender equality.
"Blank canvas … [that] associates you with a specific cultural movement or tribe." – Dennis Northdruft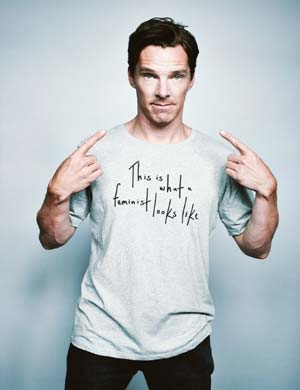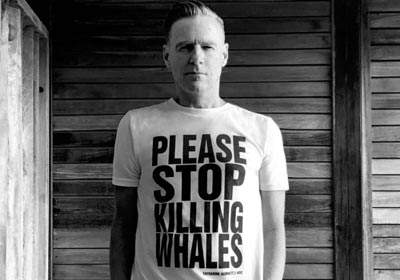 Many celebrities have also worn statement T-shirt to protest issues or to support different causes over the years. For instance, Benedict Cumberbatch wearing This is what a feminist looks like supporting feminism and gender equality. Brian Adams on the right supporting animal rights with his T-shirt reading Please Stop Killing Wheals. The list goes on and on with celebrities proudly supporting causes with slogan tees. Seeing celebrities take a stand and raising awareness ultimately makes speaking up less taboo, using their voices and platforms to reach a larger, fresher audience. Speaking the truth aloud and assuming 100% of their convictions, wearing it proudly for all to see.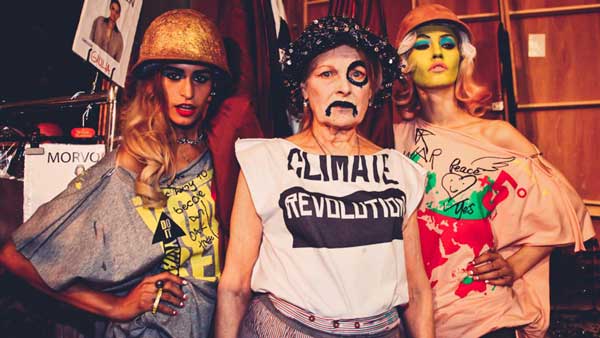 When you wear such a statement on yourself, you are telling the world what you truly stand for. No hiding behind a computer screen. It's a lot more powerful. Assuming your point of view and where you stand on an issue regardless of the risk involved is much more impactful. Everyone has done this, trying to quickly read the slogan on someone's shirt as they walk past you on the street or on the bus. It catches the eye. It also means you spend less time thinking about the fit and style of your clothes and more about what you stand for and, in my opinion, that's a good thing.